Can-Am, Polaris and Yamaha better take notice because the new Textron Off-Road Wildcat XX is an immediate contender in the High Performance UTV market. Everything about it will make for a memorable experience on the trails, dunes or in the desert. The power range and clutching are spot on and the suspension and handling could be the best of any stock SxS UTV Driver has ever tested. More importantly, the quality of the machine should attract an audience that's ready to spend less time in the garage and more time on the trail. It's offered at a competitive $20,499 and will be hitting dealerships in Spring.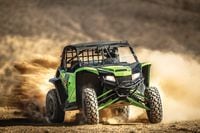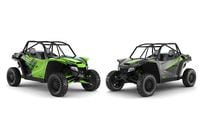 2018 Textron Off Road Wildcat XX Key Features:
998cc Naturally Aspirated EFI Engine with 125HP
Race-Inspired ROPS with Front and Rear Intrusion Bars
Double-Shear Steering and Suspension Components
Unequal Length A-Arm Front Suspension and Rear Trailing Arm Suspension
18 Inches of Front and Rear Travel
FOX 2.5 PODIUM QS3 Shocks with Bottom-Out Control
14-Inch Ground Clearance
30-Inch Behemoth Tires with 15-Inch Custom KMC Wheels
Toolless Cargo Deck
Standard Full Doors
Class-Leading 4-gallon Glove Box
Class-Leading 300-lb Rear Cargo Box with Space for a 32-Inch Tire
Standard 65-Amp Alternator
Pre-Installed Wiring for Accessories
Dual CVT Air-Intakes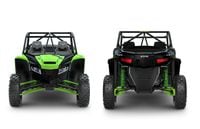 Driver Experience/Styling
Largest cab in its class that is designed to fit any size driver.
Adjustable driver's seat.
Optimally placed dead pedal doesn't require left leg to be bent more than right for increased comfort.
60 percent of the dashboard is focused to the driver for maximum driver ergonomics and visibility to display and accessories.
Center panel is angled towards driver for increased visibility and the panels and surfaces are designed to make it easier to install accessories such as radios and headsets.
A race-inspired ROPS gives the vehicle sleek and sporty lines and standard full doors provide additional protection.
15-inch KMC custom wheels with 30-inch CST Behemoth Tires are the largest stock tires in its class and big fenders ensure maximum water and mud protection.
Colors: Lime Green and Dynamic Charcoal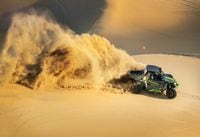 Power/Transmission
New 998cc, naturally aspirated, 3-cylinder EFI engine with 125 horsepower
All-new front and rear TEAM transaxle and front gear case was designed specifically for this vehicle. Offers 2WD/4WD and 4WD lock functionality for greater flexibility in different terrains and superior rock crawling capability.
4WD lock ensures power to all four wheels at all times for maximum traction while rock crawling or climbing and descending sharp grades.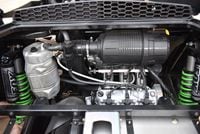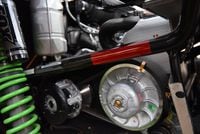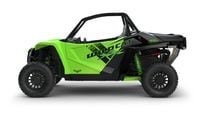 Durability and Serviceability
Durability and serviceability were at the forefront of the design for this vehicle.
All steering and suspension components are double shear—meaning they are supported on two sides instead of one with the bolt passing through two supporting members for increased durability.
New front steering rack and pinion.
The steering and suspension system also includes a forged aluminum front knuckle and large wheel bearings.
A hanging rear drivetrain prevents underside damage from impacting the powertrain mounting.
Easier access to key vehicle systems
Tool-less cargo box removal provides easy access to top side of powertrain.
The rear engine and transaxle can be removed with six bolts after simply removing the rear bottom skid plate and disconnecting the fluid and electrical connections.
The front gear case is mounted to an easily removable front steel clip/skid.
A full front skid plate can be removed if damaged instead of having to replace the entire frame like in many side-by-sides.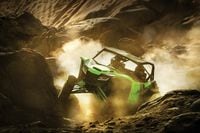 Suspension & Handling
More than 18 inches of front and rear travel.
The Wildcat XX features a unique suspension system that utilizes unequal length front A-Arms and an off-road racing inspired rear trailing arm. This combination reduces track width change by up to 40 percent in the front and 80 percent in the rear compared to the competition for unmatched stability and control.
The Wildcat XX's rear trailing arm allows for tires to travel virtually up-and-down for less side-to-side movement.
The unequal length front A-Arms adjust the tire camber to ensure maximum tire contact with the ground throughout the suspension travel.
The Wildcat XX is equipped with FOX 2.5 Podium QS3 Shocks with Bottom-Out Control.
The shocks are angled for the ideal motion ratio and front shocks are mounted to the lower A-Arm for a lower center of gravity.
Bottom-Out Control in the rear shocks offers greater comfort and the QS3 technology makes them more easily adjustable.
Different than most sport side-by-sides, the Wildcat XX's front steering rack is located in front of the axle for maximum leverage and control.
14-inch ground clearance.
Standard Electronic Power Steering (EPS).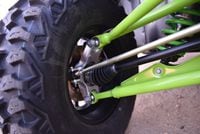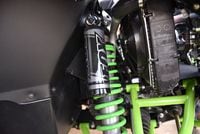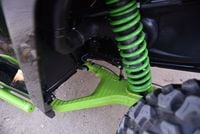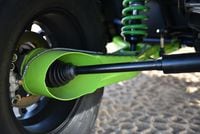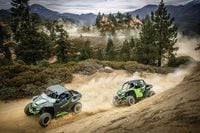 Hauling & Storage
Class-leading storage including a 300-lb cargo box that fits up to a 32-inch tire and 4-gallon glove box.
Standard 12-volt outlet and optional USB port.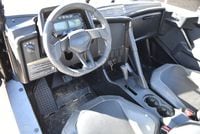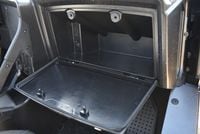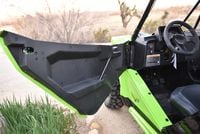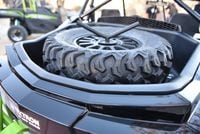 There is already more than 30 Textron Off Road accessories including roofs, windshields, front bumpers, rock sliders and mirrors. The Wildcat XX is also available in two upgrade packages; including a Decked Out Package with a Steel Front Bumper, 36-inch Light Bar, Black Aluminum Roof, Kicker SSV Audio System, Polycarbonate Half Windshield and Rear View Mirror. The Geared Up Package comes with a Steel Front Bumper, Bimini DLX Top, Kick Panel Storage Bags, Shoulder Storage Bag, Trailside Kit, Polycarbonate Half Windshield and Rear View Mirror.
For ease of accessory installation, the Wildcat XX is pre-wired. This eliminates the need to remove panels to run long wiring harnesses to the battery and cuts installation time in half. The pre-wired system comes with: Four key switch-based powered accessory connections. Four independently fused and switched circuits for fast installation of light bars and other electrical accessories.
| Specifications: | 2018 Textron Off Road Wildcat XX |
| --- | --- |
| ENGINE & DRIVETRAIN | |
| BATTERY: | Single 12V Starter |
| ENGINE TYPE: | Liquid-Cooled, 4-Stroke Inline Triple Cylinder Dual Overhead Cam, Gas Engine |
| HORSEPOWER: | 125HP |
| DISPLACEMENT: | 998cc |
| DRIVETRAIN: | CVT |
| DRIVE SYSTEM: | Electric 2/4WD with 4WD Lock |
| FUEL SYSTEM: | Electronic Fuel Injection |
| GEAR SELECTION: | TEAM Rapid Response Clutches (H,L,N,R,P) |
| FRONT DIFFERENTIAL: | Front Locking Differential with Electrical Actuator |
| REAR DIFFERENTIAL: | Rear Transaxle |
| PERFORMANCE | |
| TOTAL CAPACITY: | 730 lb (331.1 kg) |
| BED LOAD CAPACITY: | 300 lb (136.1 kg) |
| STEERING & SUSPENSION | |
| STEERING: | Rack & Pinion w/ Electronic Power Steering, Tilt Steering Wheel with Sport Design |
| FRONT SUSPENSION: | Double A-Arm with 18 in (45.7 cm) Travel |
| REAR SUSPENSION: | Trailing Arm with 18 in (45.7 cm) Travel |
| FRONT SHOCK ABSORBERS: | FOX 2.5 PODIUM QS3 with Compression Adjustment |
| REAR SHOCK ABSORBERS: | FOX 2.5 PODIUM QS3 with Compression Adjustment and Bottom-Out Control |
| BRAKE SYSTEM: | Dual Piston Front Calipers and Single Piston Rear Calipers |
| PARKING BRAKE: | Park in Transmission |
| TIRES: | 30 x 10 x 15 in CST Behemoth Tires (Front & Rear) |
| WHEELS: | 15 in Aluminum KMC Wheels |
| ELECTRICAL | |
| ALTERNATOR (ELECTRICAL CHARGING SYSTEM): | 470 Watt Stator and 65 Amp Alternator |
| ACCESSORY CONNECTION SYSTEM: | Pre-Wired Connections for up to 8 Accessories (4 Switch & 4 Key-On) |
| DIMENSIONS | |
| OVERALL LENGTH: | 136 in (345.4 cm) |
| OVERALL WIDTH: | 64 in (162.6 cm) |
| OVERALL HEIGHT: | 67.5 in (171.5 cm) (w/o Roof) | 68 in (172.7 cm) (w/ Roof) |
| OVERALL WEIGHT: | 1,816 lb (823.7 kg) (Dry) | 1,868 lb (847.3 kg) (Curb) |
| WHEELBASE: | 95 in (241.3 cm) |
| FUEL CAPACITY: | 10 gal (37.9 L) |
| GROUND CLEARANCE: | 14 in (34.3 cm) |
| GLOVE BOX CAPACITY: | 4 gal (15.1 L) |
| BED DIMENSIONS: | (L X W X H) 34 x 32 x 9 in (86.4 x 81.3 x 22.9 cm) |
| COLOR OPTIONS & FRAME | |
| FRAME: | Structurally Welded High Strength Steel |
| STANDARD COLORS: | Lime Green, Satin Charcoal Metallic |
| OPTIONAL COLOR: | Horizon Blue |
| FEATURES | |
| INSTRUMENTATION: | Dual Screen LCD Gauge with Seatbelt Indicator, High Beam Indicator, Oil Pressure, Indicator, Coolant Temp. Warning Light, Check Engine Light, Engine Hour Meter, Odometer & Trip Meter, Clock, Gear Position, Diagnostics |
| LIGHTING: | Low/High Beam Halogen Headlights with LED Accent |
| SEATING: | Stitched, Two-Tone, Contoured Bucket Seats |
| STORAGE COMPONENTS: | Cargo Bed, Glove Box, Cup Holders (2) |
| SAFETY: | 3-Point Seat Belts (4-Point and Click-6 Ready), Seat Belt Rev Limiter, Standard Full Doors, Race-Inspired ROPS with Front and Rear Intrusion Bars, 2 Passenger Grab Handles, Headlights, Brake Lights |
| WARRANTY | |
| WARRANTY: | 6 months |